Sweetest Day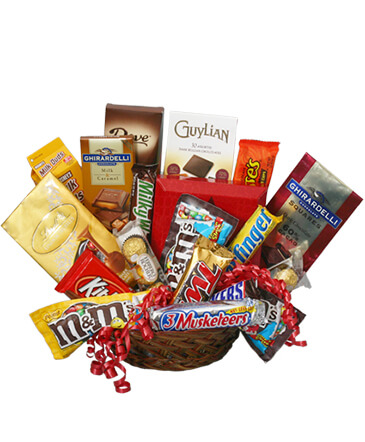 CHOCOLATE LOVERS' BASKET
Gift Basket
This is a candy lover's dream! Full to the brim with sugar, spice, and everything nice, the Chocolate Lovers' Basket is the perfect gift for that special someone in your life. Surprise them with something as sweet as they are and send them their candy dreams today! (Please remember that each selection is custom made and substitutions may be necessary. Your order will be produced as closely as possible to the picture.)
Shown at $54.00
CHOCOLATE LOVERS' BASKET
GIFT BASKET
Round Basket, Asst Gourmet Chocolates &amp Candy Bars, (Shown: Dove, Ghiradelli, Guylian Belgian, Lindt &amp Rocher Chocolates, M&ampms, Milk Duds, Butterfinger, Snickers, Twix, Reeses, Kitkat, Three Musketeers &amp Milky Way).
This is a candy lover's dream! Full to the brim with sugar, spice, and everything nice, the Chocolate Lovers' Basket is the perfect gift for that special someone in your life. Surprise them with something as sweet as they are and send them their candy dreams today! (Please remember that each selection is custom made and substitutions may be necessary. Your order will be produced as closely as possible to the picture.)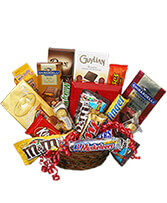 $54.00
Shown at $54.00
Sweetest Day gift baskets from IVY TRELLIS FLORAL & GIFT SHOPPE in Owensboro are the perfect gift for this tasty holiday. Not only are they filled with your favorite sweet snacks, but they can be customized to be even more sweet for your special someone. Have a candy gift basket made for your friend who loves to snack. For chocolate lovers, you could send a candy bar gift basket or a gourmet chocolate gift basket, it just depends on your Sweetie's taste. Just give IVY TRELLIS FLORAL & GIFT SHOPPE a call and we'll help you find the perfect treat for your Sweet.